« Cet article a pour titre une citation de Serge Zeller … Elle préfigure une annonce que je me serais bien passé de publier ! En effet, c'est avec une pointe de tristesse. Et, beaucoup d'interrogations que nous venons d'apprendre avec quasi certitude le fait que Groundation reviendra probablement en 2018 : MAIS, ce sera hélas, sans les membres originaux et fondateurs du groupe (Ryan Newman – basse) et Marcus Urani – claviers). La nouvelle a été confirmée par Harrison Stafford, ainsi que par Marcus Urani eux-mêmes …  Une page se tourne …  Après près de vingt ans de musique ensemble : (1998-2015).
Harrison souhaite cependant conserver le nom de Groundation, en persévérant avec le concept autour de cette musique. Néanmoins, si un nouvel album voit le jour (probablement l'année prochaine), vous l'avez compris : Il sera très certainement entouré de nouveaux musiciens :  Nous espérons malgré tout retrouver certaines têtes connues, afin de participer à ce nouveau dessein : (Comme pourquoi pas, d'autres membres de Groundation) … Bien que, pour le moment  cela reste encore incertain. Nous n'avons en effet, pour l'heure aucunes informations sur la composition du nouveau groupe qui se formera autour du chanteur … Une chose est certaine,  sans Marcus, Ryan et tous les autres : Le son, ainsi que l'atmosphère générale autour  de Groundation vont  changer … Beaucoup d'entre nous semblent penser que ça ne sera plus jamais comme avant … Quoi qu'il en soit, que nous regrettions (ou pas) la décision  d'Harrison Stafford de continuer avec le nom original du groupe ; Et, sans ses compères … Cela n'empêche pas de lui souhaiter le meilleur pour les jours à venir …  Espérons, pour le bien de tous que son nouveau projet soit à la hauteur ! Nous avons bien entendu une énorme pensée pour Ryan, Marcus et les autres !! Souhaitons-leur également bonne chance pour la suite !  Pour finir, je voudrais à titre personnel remercier Groundation :  Remercier tous les musiciens du groupe (actuels ou anciens), les fans ainsi que l'ensemble du staff … Merci pour les bons souvenirs, le partage les enseignements, le message, l'amour ,tous les albums, les concerts, la musique et bien plus encore » …
(Informations supplémentaires et réactions sur le forum)
See You Soon Guys .. !! 🙂
PLH
——–
« Everything that has a beginning has an end, but each end is the beginning of a fresh start. »
« The article's title quoting the wise words from  Serge Zeller … It prefigures an announcement that I could have done without ». Indeed, it is with a touch of sadness. And, some  interrogations that we've just learned a news confirmed by Harrison Stafford, and  Marcus Urani themselves  : Groundation will come back in 2018 … BUT, it will be alas, without the original members and founders of the band : (Ryan Newman – bass) + Marcus Urani (keyboards)  … A  page has been turned. .. After nearly twenty years of music together: (1998-2015).
Harrison wants to keep the name of Groundation, persevering with the concept around the music. Nevertheless, if a new album comes out, We hope to see some well known musicians : Like why not, other members of Groundation) … Although, for the moment this remains uncertain. We have indeed no informatopns about the composition of the new group that will be formed around the singer yet  … One thing is certain, without Marcus, Ryan and all the others: The atmosphere  around Groundation will change (as well as the sound) … Many of us might think that it will never be the same again …
Be that as it may :  While we might regret (or not) Harrison Stafford's decision to continue with the original name of the group; And, apparently without his former companions … That does not prevent to wish him the best for the days to come … « We hope in the interests of the common good that, this new project will be equal to the task »! Of course, we have  have a thought for  Harrison Ryan, Marcus and the others !!  Good luck  everyone for the future!  On a personal basis, I would like to thank Groundation : Thanks to  all the musicians of the group (current or former members), the fans of the whole staff … Thank you for the good memories, the sharing of the teachings, the message, the love … And, of course; all the albums, the concerts,  the music music and much more « …
PLH
---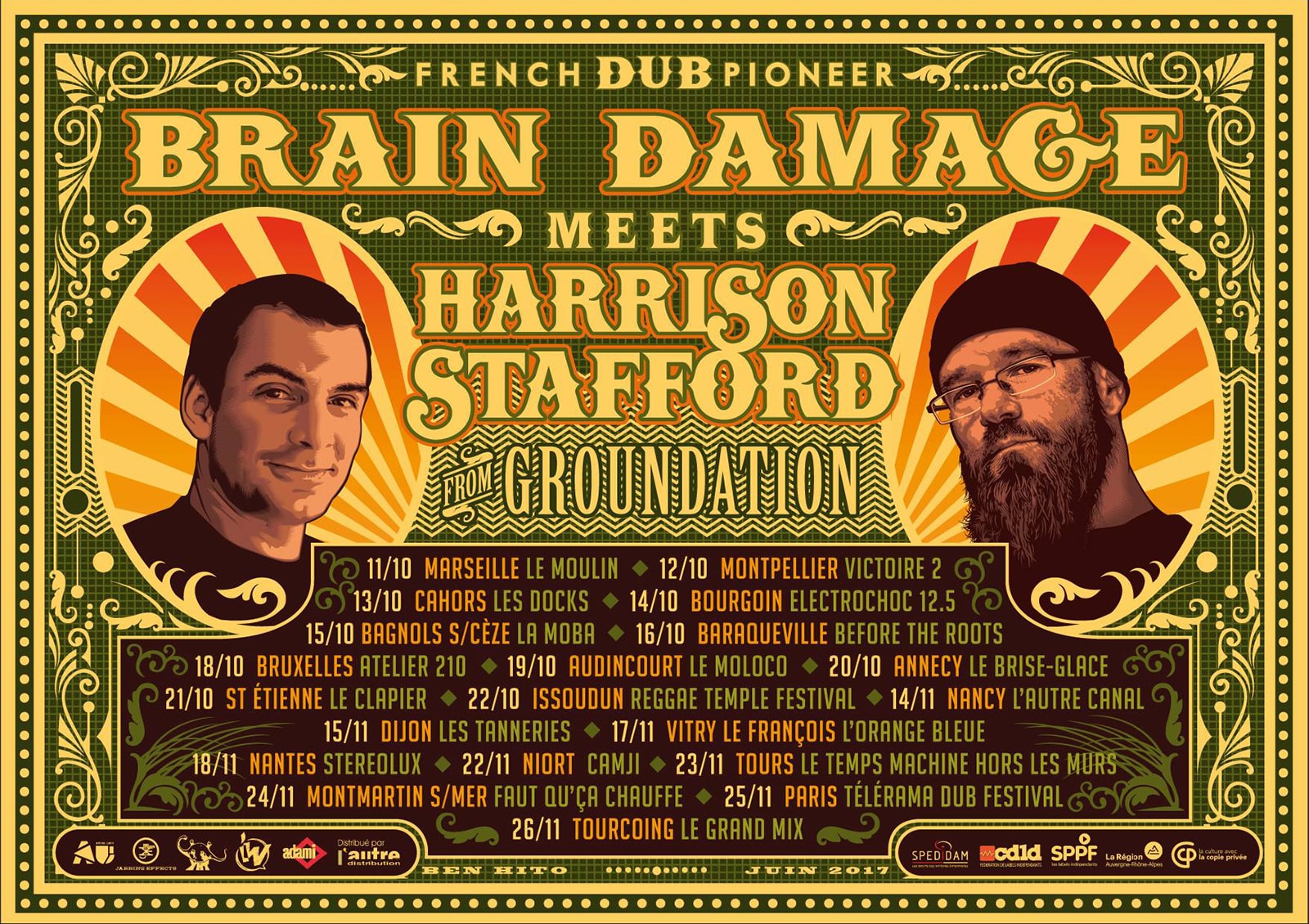 https://www.instagram.com/brain_damage_dub/ + https://www.instagram.com/harrisonstaffordmusic/
Retour sur le présent : Retrouvez  une interview et des vidéos issues des concerts (ci-dessus), plus toutes les dates de la tournée de « Brain Damage Meets Harrison Stafford ici : http://www.jarringeffects.net/brain-damage-meets-harrison-stafford/ 
photo : Vincent Bonnevialle
Mise à jour du 20 octobre 2017 : L'album « Liberation Time » est désormais disponible dans les bacs, ou sur toutes les plateformes de téléchargement légal … Vous pouvez par ailleurs écouter les 10 titres en streaming à cette adresse : https://www.musicme.com/#/Brain-Damage,-Harrison-Stafford/albums/Liberation-Time-3521383444610.html

---
Stay Tuned .. !! 🙂